CraftedCarvings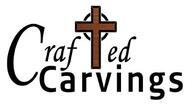 Welcome to my one woman shop!
My name is Jennifer. I am an Army veteran, mom to an Army reservist/social worker, wife, and Christian. I started my interest in woodworking in middle school, back when shop classes were mandatory. Then, blessed with working for a sign maker in high school and gifted a router one distant Christmas, I made crafting my full-time job in 2015. I enjoy creating products you'll enjoy receiving and giving. If you'd like to customize anything you see in my shop to make it yours alone, just let me know. I love working with you to make unique pieces. If you are not quite ready to buy, please favorite my shop so you can find me easily when you are ready. Thanks for looking!
I also operate EnkoreSign.net, PACKAwards.net and MilitaryPatriot.net on Etsy so be sure to check them out, too... but just to see what I can do. If you want something you see there and not on this platform, hosted by goimagine, please contact me so I can recreate the listing here, that way all profits from fees will go to children in need.

As a former foster parent and a parent of a daughter who chose to go into social work to help keep children from having to go into foster care, I am passionate about the goimagine cause and look forward to the day I have all my inventory available here.